Reading Time:
4
minutes
A unique moment in horology history, never has such an array of F.P. Journe timepieces been brought together in one auction to celebrate a single independent watchmaker. Amongst the emblematic references offered at The Art of F.P. Journe auction are a platinum Tourbillon Souverain with a superb jade dial; a superb example of the 'Pré-Souscription' platinum Chronomètre à Résonance; the iconic Centigraphe Souverain with "Ferrari red dial"; a platinum Octa Calendrier with a mother-of-pearl dial; a Chronomètre Souverain Dubai edition; as well as an ultra-light titanium Octa 'LineSport' with stunning deep blue dial. The Art of F.P. Journe Live auction, on 12 May, in Geneva, presents a unique opportunity to acquire a timepiece by one of the most important independent watchmakers of today. This collection will be on tour to selected international Christie's locations before being exhibited at the Four Seasons Hotel des Bergues in Geneva in the lead-up to the auction.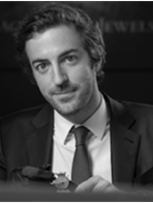 Remi Guillemin, Head of Europe Watches, shared: "We couldn't be more excited and honored to present these forty F.P. Journe watches in a stand-alone thematic auction. The Art of F.P. Journe will be a historic sale, a must-attend event, and we look forward to bringing together collectors from around the globe to celebrate these iconic timepieces by a modern watchmaking genius."
Highlights from the F.P. Journe ensemble
This platinum F.P. Journe Tourbillon Souverain with solid platinum bracelet, is a magnificent timepiece, elevated to the highest degree of rarity, due to its superb jade dial, of which only a few examples exist. Circa 2018.
(Est: CHF500,000-1,000,000)
When launching his brand, F.P. Journe introduced a 'subscription' model, with 20 of his closest friends and clients committing to purchase timepieces made under his name with the resulting Souscription Tourbillon numbered 1 to 20. Shortly after, the Chronomètre à Résonance was produced, and F.P. Journe reserved the initial 20 numbers for those clients who had previously subscribed, offering them the opportunity to acquire a Souscription Résonance with matching engraved numbers. The auction will offer an early example of the 'Pré-Souscription' platinum Chronomètre à Résonance. Circa 2000.
(Est: CHF500,000-1,000,000)
Another quintessentially F.P. Journe example is this Centigraphe Souverain platinum ergonomic chronograph wristwatch with 100th of a second, 20th seconds, 10-minute registers, a red chrome dial and platinum bracelet.  Only available upon special request, this "Ferrari red dial" edition of the Centigraphe Souverain unites the worlds of high horology and motor sports. Circa 2010.
(Est: CHF400,000-600,000)
This highly exclusive platinum Octa Calendrier is one of only 15 pieces made for the prestigious Singaporean retailer 'Sincere Fine Watches' with a black mother of pearl dial. Rarely available at auction, the offering of this piece provides collectors with the rare opportunity to obtain an example of this automatic annual calendar. Circa 2006.
(Est: CHF150,000-250,000)
Signed F.P. Journe, this exclusive and distinctive platinum limited edition wristwatch with green dial is one of only 99 examples of the Chronomètre Souverain produced in 2020 to celebrate the opening of F.P. Journe's first Dubai boutique (on October 30th, 2019). Circa 2021.
(Est: CHF60,000-120,000)
Possibly one of the rarest and most attractive versions of F.P. Journe's ultra-light titanium Octa 'LineSport' automatic wristwatches, this blue dial model was made in a highly exclusive and very limited edition of only 8 pieces. To our knowledge, this is the first blue dial Octa LineSport to come to international auction to date.
A portion of the sale result of this watch will be donated to "Only Watch", benefitting the Association Monégasque contre les Myopathies, for research on Duchenne muscular dystrophy . Circa 2019.
(Est: CHF60,000-120,000)
About Christie's
Founded in 1766, Christie's is a world-leading art and luxury business. Renowned and trusted for its expert live and online auctions, as well as its bespoke private sales, Christie's offers a full portfolio of global services to its clients, including art appraisal, art financing, international real estate and education. Christie's has a physical presence in 46 countries, throughout the Americas, Europe, Middle East, and Asia Pacific, with flagship international sales hubs in New York, London, Hong Kong, Paris and Geneva. It also is the only international auction house authorized to hold sales in mainland China (Shanghai).auctions span more than 80 art and luxury categories, at price points ranging from $200 to over $100 million. Christie's has sold 8 of the 10 most important single-owner collections in history, including the Paul G. Allen Collection—the most valuable collection ever offered at auction (November 2022). In recent years, Christie's also achieved the world record price for an artwork at auction (Leonardo da Vinci's Salvator Mundi, 2017), for a 20th century artwork (Andy Warhol's Shot Sage Blue Marilyn, 2022) and for a work by a living artist (Jeff Koons' Rabbit, 2019). Christie's Private Sales offers a seamless service for buying and selling art, jewellery and watches outside of the auction calendar, working exclusively with Christie's specialists at a client's individual pace.Following the groundbreaking 2021 sale of the first digital art NFT ever offered by a global auction house (Beeple's Everydays), Christie's recently launched the first fully on-chain auction platform dedicated to exceptional NFT art. As an industry leader in digital innovation, Christie's also continues to pioneer new technologies that are redefining the business of art, including the use of hologram technology to tour life-size 3D objects around the world, and the creation of viewing and bidding experiences that integrate augmented reality, global livestreaming, buy-now channels, and hybrid sales formats.Christie's is dedicated to advancing responsible culture throughout its business and communities worldwide, including achieving sustainability through net zero carbon emissions by 2030, and actively using its platform in the art world to amplify under-represented voices and support positive change. Browse, bid, discover, and join us for the best of art and luxury at: www.christies.com or by downloading Christie's apps.
* Please note when quoting estimates above that other fees will apply in addition to the hammer price – see Section D of the Conditions of Sale at the back of the sale catalogue.
*Estimates do not include buyer's premium. Sales totals are hammer price plus buyer's premium.